Sodium Bicarbonate
Price:

Introduction:1.Sodium bicarbonate food grade 2.purity: 99.0-100.5 3.Use in baking industry 4.Certificated by ISO/SGS
Sodium Bicarbonate
Other Names: Sodium Hydrogen Carbonate
CAS No.: 144-55-8
EINECS No.: 205-633-8
Molecular weight: 84.01
Appearance: white crystal or powder
Purity: 99%Min
HS Code:28363000
Application: for cooking, feed ,medical
Grade Standard: Food Grade, Industrial Grade,
Properties:
Appearance: white crystal or powder
Odor: Odorless
Melting Point: 270 centigrade
Decomposition Temperature: >50 centigrade
Solubility: 9g/ 100ml in water (@ 20 centigrade)
Specification: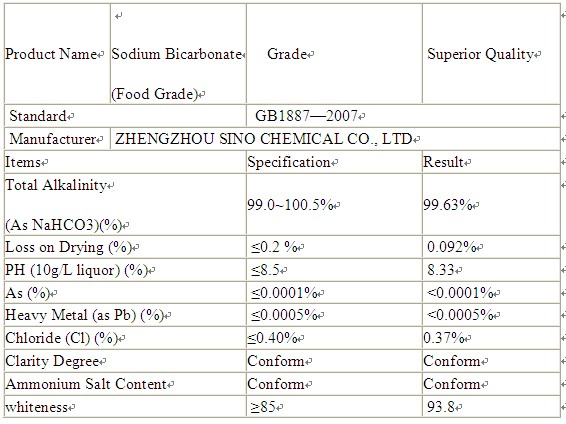 Application:
It could be uses as yeast in the food industry, detergent additives,
carbon dioxide generant, pharmaceutical raw materials, and also
could be used in the following industries such as leather, the
dressing smelting, flame retardant, mineral separation
and smelting, extinguishant, metal heat treatment,
fiber and rubber, etc
Storage and Transportation:
1)Store in a cool, dry and well ventilated area, away from
incompatible
substances and in a tightly closed container
2)Wash thoroughly after handling. Minimize dust generation and
accumulation. Avoid breathing dust, vapor, mist or gas.
Avoid breathing vapors from heated material. Avoid contact with
skin and eyes.
Packing:
In 25Kg/50Kg/1000Kg/1200Kg PP-PE woven bag