Barium Sulfate
Price:

Introduction:1.Barium sulfate Precipitated 98% 2.Used in paint, coating, ink, plastic, rubber, textiles 3.SGS Certificate
Best Quality Barium Sulfate From Direct Factory
Product Name: Barium Sulfate Precipitated
Other Names :barium white
Application Mainly used in paint, coating, ink, plastic, rubber, textiles and ceramic
field.
Properties of Barium Sulfate:
White formless powder, relative density 4.50 g/cm3(15 centigrade),melting point
1580 centigrade.No taste and no poisonous. acid and alkali-resistant,Mohs
hardness(3-3.5),can absorb X-ray and other dangerous radiation.
Specification of Barium Sulfate :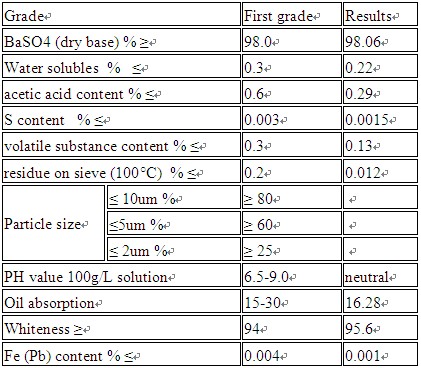 Application of Barium Sulfate:
1.Widely use as raw material and filler of powder coating,many types of paintings,
inculding Vessel priming paint, Armament equipement painting,finishing coat,
automobile paint,emulsion paint, architectural coating,
2. Partly instead titanium dioxide,broadly use in tire rubber, insulated rubber,rubber
hose, slab rubber,plastic,printing ink.
3. Filling of battery.
4. Surface coating of photographic paper and enamelled paper,sizing agent of
textile industry.
5. Clarifying agent of glass products, defoaming and increase luster.
6. Protective material from ray(X-ray).